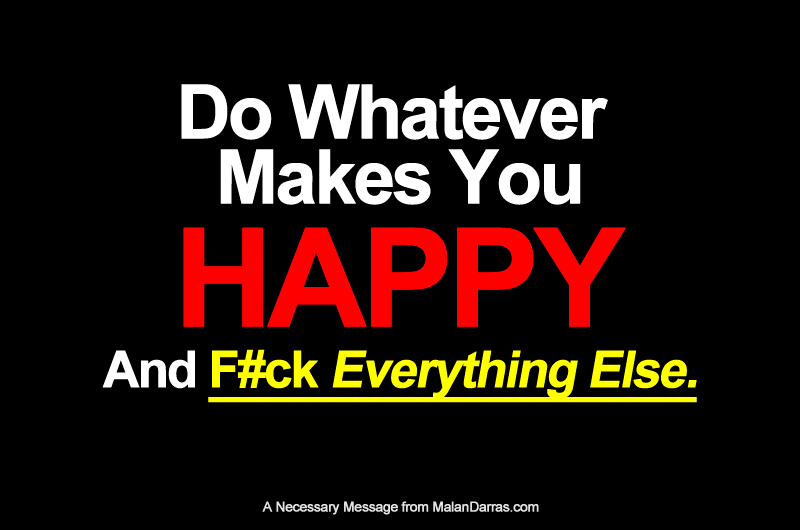 Last year I read an article about the Top 5 Regrets of The Dying. In it, a nurse asked her dying patients if they had any regrets. She then took their answers and compiled them into a list.
The Number 1 regret on the list?
I wish I'd had the courage to live a life true to myself, not the life others expected of me.
We all say "I don't care what other people think of me" but  do we really mean it?
I'm pretty sure that for most of my life I have been trying to be what other people thought I should be. Even if that meant "drunken, lunatic, rock and roll singer that doesn't care what people think of me" – To some degree even that was me trying to become what other people thought I should be.
It is my experience that no matter what you do – you will never please people. As soon as you do manage to please one group, another group will tell you you're wrong.
In my life the game went like this:
I played in bands and pursued a career in music: "Get a Real Job and quit dreaming"
I got a real job and did the 9-5 thing: "What a waste – You should be focusing on your music"
I was skinny and out of shape: "Hey skinny boy you need to get in shape"
I got in shape and ate right: "Hey muscle jock, quit being such a douche bag"
I get into a relationship: "You should be single and enjoying your success"
I get single: "You need to settle down and start a family"
It goes on and on. And it appears that no matter what you do – there will always be a peanut gallery telling you you're doing the wrong thing. It can even be your good friends and family which makes saying F*ck You a little harder.
If any of this sounds familiar – my advice is to loudly say "F*CK YOU" to everyone you know and do what makes you happy.
(*This doesn't apply to: "I want to smoke crack and treat people like garbage" Don't be an idiot.)
Go after whatever dream interests you the most right now. And know that that dream might change over time and that's ok.
As long as you're happy with the path you're on and the life you're living that is all that matters.
Most of the time the people telling you what to do with your life simply want you to do what they did with their lives. And more often than not – they haven't done much.
In Conclusion:
Remember – A large majority of people on their death bed simply wish they had lived a life true to themselves. We are not on our death beds (yet) so we have the ability to do that…
Right now.
Original Article:
http://www.theguardian.com/lifeandstyle/2012/feb/01/top-five-regrets-of-the-dying