You've heard of Voluum right?
It's one of the sickest tracking systems in the online marketing world. And starting today, you can get unlimited tracking for ZeroPark campaigns for free.
If you know what means and want to get started right away, you can use my referral link to sign up for Voluum now.
If not, let me explain.
About a week ago I was reading a forum post. It was from a new affiliate who was using Zeropark and a free Voluum account. He was fighting to get his campaign profitable.
After a few days of testing he was profitable. His campaign was making about $20 a day. He was excited BUT his free Voluum clicks had run out and he didn't have the money to pay the $99 monthly fee.
He had a profitable campaign ready to go but didn't have the money to run it.
He was broke and had a family and $99 was like $1 Million to them. And although his campaign was making $20 a day he wasn't sure if it would last so he couldn't justify risking the $99/month because, well… he needed food for his kids.
So he quit.
Today, I woke up and saw the news that Voluum was now free for unlimited Zeropark traffic. All I could think of was this guy, standing in his living room jumping for joy.
Here's their update:
Free tracking for ZeroPark campaigns!

As more and more Voluum users are buying traffic from our ad network ZeroPark – which by the way will soon be the biggest source of PPV traffic in the world – we've decided to make the tracking of ZeroPark events completely free. If you haven't already tried ZeroPark, make sure to and check it out as we'll soon have over 25 billion visitors for sale each month. It's also directly integrated into Voluum so you have exact cost tracking and everything pre-defined.
What is Voluum?
Voluum is one of the top campaign tracking systems on the market right now. I was told about it early on by one of the best Facebook affiliates in the world. It's pretty sick actually and looks sexy as hell.
I wrote an in-depth comparison of Voluum vs CPVLab here.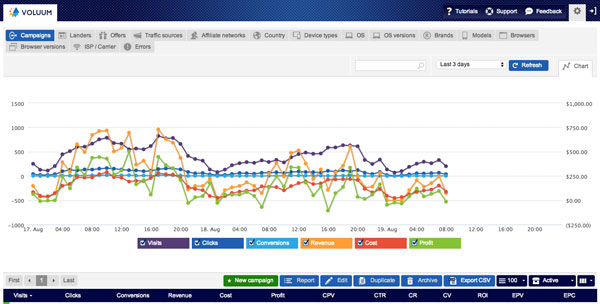 You use Voluum to track your campaigns. It shows you all kinds of details about the people that visit your website.
Location
The type of device (phone, laptop, iPad, etc)
Their operating system
Which ad they clicked
Which traffic source they came from
If they clicked through the landing page
If the bought something
With this kind of information you can make almost any campaign profitable.
Where Voluum really shines is that it's hosted, so you don't have to host and manage a tracking server yourself. If you're code-challenged like me, that's a big deal. With Voluum, you login, setup a campaign and start running traffic.
Price: $99 a month
The only thing that holds most new affiliates from using Voluum is it's price tag. It's free up to a certain number of visitors a month, but if you're running a campaign with lots of traffic, especially a PPV campaign you can run out of free clicks pretty quick.
But now you can use Voluum to run ZeroPark traffic for free.
What is Zeropark?
Zeropark is a traffic source that is run by the guys that made Voluum. This is why they're doing this, it's in their best interest to let you run Voluum for free, because they make money on their traffic source (win/win). I don't personally use Zeropark but only because I'm focused elsewhere.
They're high volume and say they will soon have over 25 Billion visitors per month.
Their traffic is made up of mainly redirect traffic. Redirect traffic comes from parked domains, that domainers use to make money.
Example:
Steve buys dating.com and is getting 2 Million visitors per day
Steve hires Zeropark to redirect his traffic to affiliates
You bid on Zeropark to get Steve's traffic (online dating)
Zeropark sends them to your landing pages
You show them online dating offers and make cash
If that sounds like something you're into. You can signup at Zeropark here (not an aff link).
How to Use Voluum with Zeropark
Now let's put it all together. When Zeropark starts sending visitors to your page, you can use Voluum to find the profitable streams of traffic.
Voluum actually comes with Zeropark already setup as a traffic source so it's really easy to setup a campaign and get started.
For example, you might start the campaign by buying traffic from 3 different sites. Dating.com, FunDating.com and HotDating.com. You spend $100 and only make $50 back.
Don't panic.
You can use Voluum's drill down tools and see that all of your conversions are coming from Dating.com which only spent $25. So you pause FunDating.com and Hotdating.com and try again.
This time, Dating.com spends the same $25 and makes the same $50.
You just doubled your money. Try spending $250 and see what happens.
Conclusion
So that's how it works. If you're looking for a profitable campaign I'd suggest you give this a try. As with anything else, it's not free money, you'll still have to do the work.
But now you can do it with a high volume traffic source and one of the best tracking systems for free.