When you think about doing something new with your life, or restarting something old – your brain will throw out a bunch of ideas about how you are going to fail.
They won't like you.
It's too hard.
You're too old.
You're too young.
Sound familiar?
The age excuse is the most common one.
I've dealt with it in my life and these days I get messages from people around the world who are dealing with it too.
So let's talk about it.
My Life
One of the age excuses in my life came from the music business.
I became interested in music when I was about 8 years old and was writing songs by the time I was about 10. By age 11 I was in my first band and stayed in bands until the age of 34, when I packed up and moved to California.
Along the way I got it in my head that unless you made it in the music business by 25 years old you were too old to do it.
I'm not sure where I heard it first, but I know I heard it. And so did everyone else.
Most people start the race for rock stardom at about age 16.
By 21 – half of them are gone, going back to school or working a 9–5 job.
By 25 – the crowd is cut in half again as people decide they're "getting old" and need to get serious about their lives, again opting to go back to school or into the 9–5 workforce.
By 30 – 95% of aspiring musicians have called it a day and disappear into the work force.
An Old 29
One example of how this age thing screwed me up happened during a time when a rock band I was playing with was being looked at by one of the top entertainment attorneys in the world.
In the days building up to his visit, I was in full panic mode.
I had just turned 29 years old.
The other guys in the band were 21–22 and after years of being the "kid" in the band, I was now the oldest guy in the group.
I remember having a serious conversation with the band before the attorney flew in. "Guys, please please don't mention that I'm 29 years old or we might lose the deal". I laugh about that now, but at the time I was dead serious. I really thought if he found out I was 29 he'd walk away.
At 29 years old I got it in my head that making it was impossible.
And so it was.
Months later the project imploded and it all evaporated into thin air.
But here's the point:
Years later – I was reading about one of my favorite bands, Jane's Addiction. I always thought Perry Farrell (the singer) was 19 or 20 when they put out their big albums.
To my surprise, I found out that when their first album "Nothing's Shocking" came out he was 29.
And when their masterpiece of an album "Ritual De Lo Habitual" came out.. he was 31.
Dammit!
I wanted to laugh, cry and slam my head against the desk at the same time.
As I looked into more bands, I saw that in many cases the members were much older than I thought they were when they broke through.
Lesson learned.
Mountain Song by Jane's Addiction. Perry was 29.
These Days
These days I get emails and messages from readers all over the world who need advice or want an answer to a question.
One of the most common questions – is actually two questions.
Am I too old to ________?
Am I too young to ________?
Thankfully the answer to both is very easy.
No.
The answer is always No.
Whatever it is, it's No.
100% of the time – the answer is No.
From what I can tell there is no real age limit to doing things.
I almost wrote out a caveat that age 0–10 is probably too young to do some things… but then I think of all the entrepreneur kids who are creating apps and websites that make them millionaires before they hit their teens.
So the answer is no.
You're not too old to do anything, and you're not too young to do anything.
One of my favorite sayings is:
"Today you are the oldest you have ever been, and the youngest you will ever be again".
Remember that line the next time you want to do something and your mind tosses out age as an excuse to stop or quit.
There will never be a better time than right now.
And you won't be alone.
Mark Rothko
I recently watched a documentary on the artist Mark Rothko.
He painted for 30 years before anyone really cared about his work. Then in the 20 years after he broke through, he became a world-renowned master and a millionaire. Today his works are valued in the 10s and 100s of millions of dollars and his legacy will live on for centuries.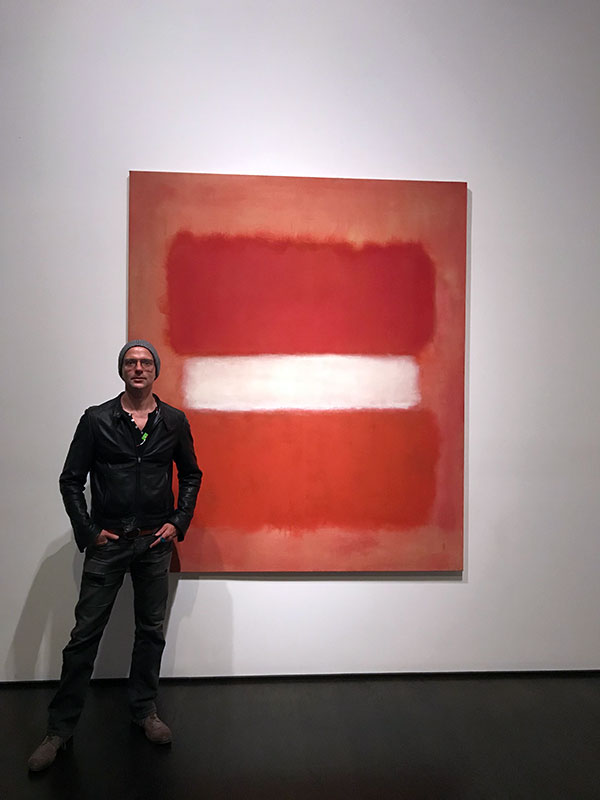 Standing with Rothko's 'White Center' a few weeks ago
What if Rothko had quit 25 years into it and became an accountant?
He would have lived an unhappy life of failure and died in obscurity.
Like most people do.
Remember.
There are no age requirements for the things you want to do in your life.
There are no rules.
There are no excuses.
It's easier said then done.
But that doesn't mean it can't be done.
#SYITF